Probably the most memorable thing said to me in my weekend trip to Scotland was a gentleman saying "I like your cock". He was instantly horrified by what he said, but in the context of the conversation, it was a perfectly innocent comment. However, it's so delicious that I refuse to explain the circumstances. Don't ask because I won't tell.
When my friend Paul invited me along to his weekend trip to Scotland, I was only too happy to accept. However, I confess that I felt a bit odd about it. You see, though I was born in Texas, I was conceived in Scotland. Had my mother not had to leave the country under circumstances I've heard at least three contradictory versions of, I would have been born there. I'm not the sort to attach any mystical import to such an event, but it weighs on my mind all the same. I felt like I was going home, in some nonsensical fashion.
The drive, not surprisingly, was beautiful. This is a rather common sight in the English midlands.
Paul and I crashed the night in his flat in Lancaster and once again, I took a photo of the house I want to buy.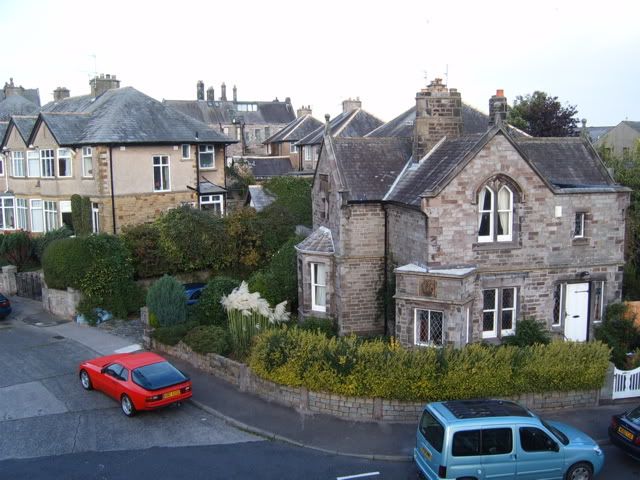 The next day we continued driving to Scotland. I must say, the rest stops are gorgeous, unlike the boring stops in the US.
Of course, I also had to take pictures of the birds in the rest stop's lake.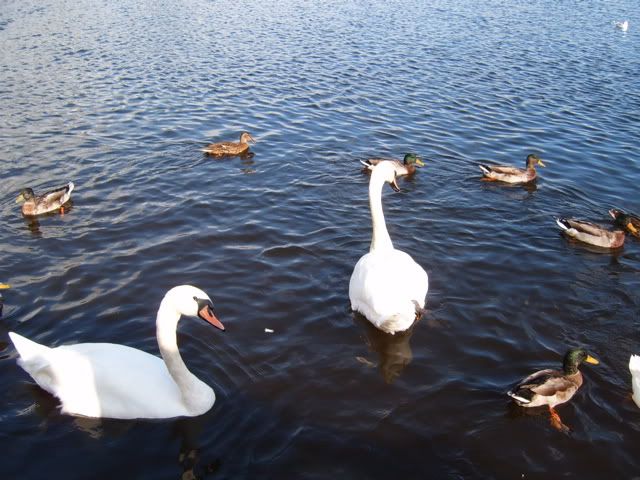 The drive itself took us past ruins, some quite small.
And it also took us through the town of Muirkirk, a town in East Ayrshire in Northern England. They also have a charming town named "Heads of Ayr", but I'll refrain from comment.
The odd thing about Muirkirk is the totem pole, something not traditionally associated with Scotland:
Though I confess I'm more interested in their poets.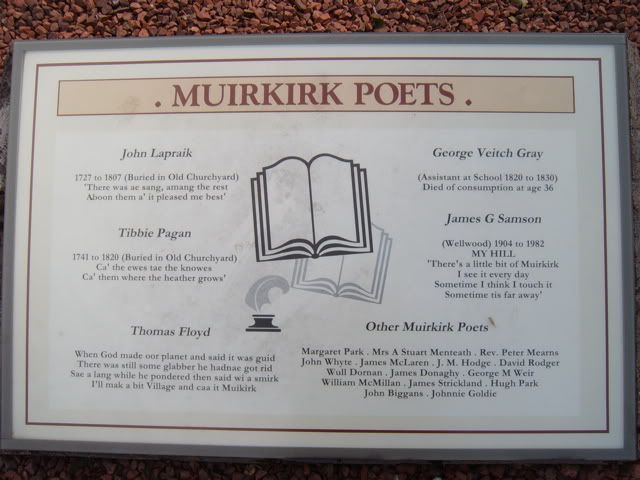 Traveling along saw more interesting architecture.
But our first major stop was Electric Brae, known locally as "Croy Brae".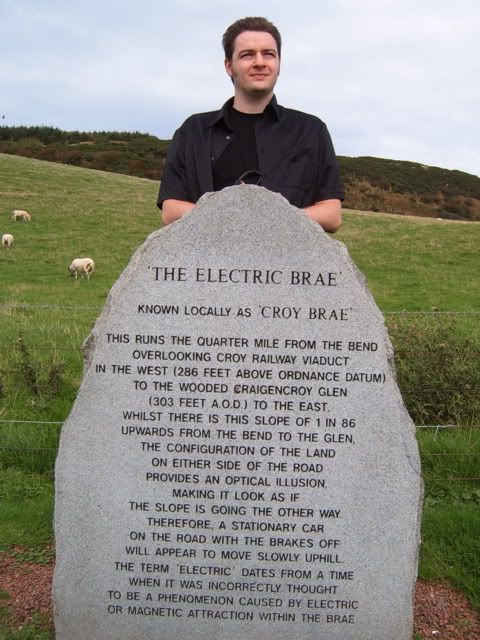 What makes this area interesting is an optical illusion which makes downhill look like uphill. You can't see it too well in this photograph, but you're looking downhill on this road.
The lady in that photograph explained how when she was a child, she and her friends used to come here and play and were always amazed by the effect. When she and her family got in her car, they took off the parking brake and sure enough, their car appeared to roll uphill. Later, Paul and I sat in the car, drove a bit and both agreed that we were facing downhill. Then he took off the brake and the car rolled backwards -- apparently uphill. It was very unsettling. I also found it unsettling as I tried to walk along this road because my sense of balance and my eyes were sending me different messages. I wonder, though, if the latter effect was psychosomatic. Would I have thought that if I hadn't have known?
Of course, I'm not sure if this compares to when we were leaving Maybole and saw the following sign: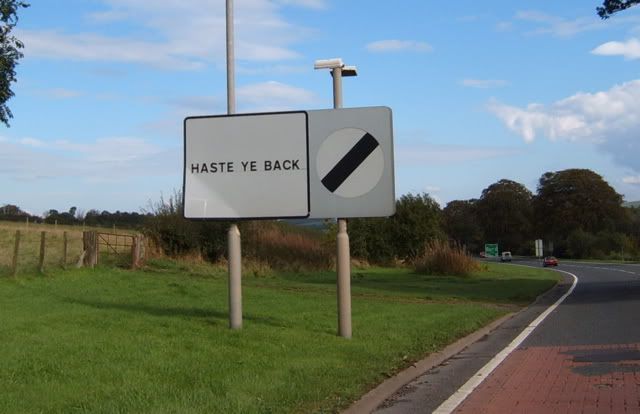 However, the thing I most wanted to see was Dunoon, Scotland, just south of the entrance to Holy Loch. Holy Loch is where my father was stationed 40 years ago. Had my mother not returned to the US, I would have been born there. I found myself standing in the town of Gourock, waiting for the ferry to take me to where I would have been born.
The entrance to Holy Loch was like a Holy Grail to me. I've never known much about my history so I could only wonder what I would find there, but all I could think was how beautiful it was.
Paul and I had a pint at a nice cafe there and I asked some of the locals about the military base that was once there, but though they knew it used to be there, few people knew much about it.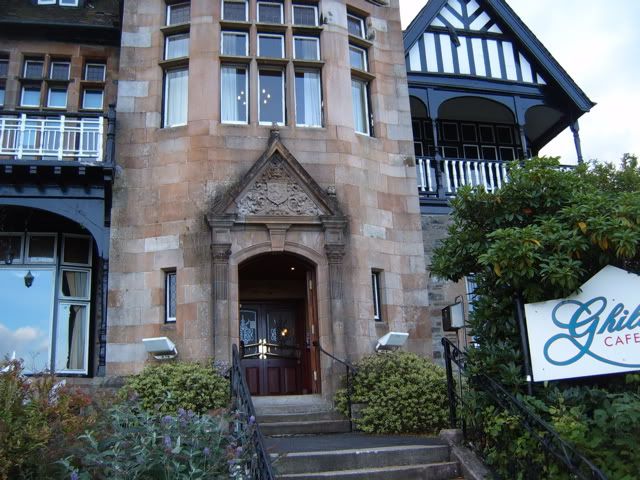 While drinking a Guiness and laughing about a bird which took its liberties on Paul's hand (well, I laughed and he cursed), I thought to contact my father. We swapped a few text messages and then he called me. Had my mother not left, I would not have been born in Dunoon. I would have been born in Gourock, the town we passed through without a second glance. So we boarded the ferry back to it. My sister,
saucee, remembers a bit of this, but I was naught but a speck in my mother's belly at the time.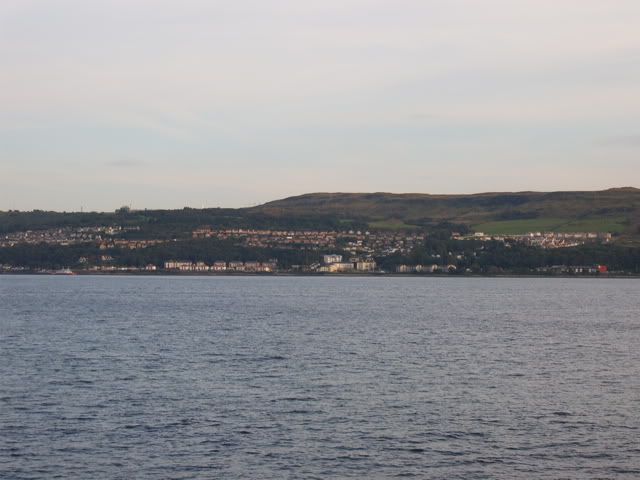 I took a few photos and had we not been pressed for time, I might have lingered. However, I knew this wouldn't have been a "home" for me either, since I wouldn't have stayed. Had my mother and father remained together, he would likely have been transferred elsewhere and this town would merely be another name in my history, much like it is now.
Later we passed through the town of Glen Coe, where the beginnings of the first Highlander movie were filmed and discovered, to our amazement, that every hotel we stopped at was booked. After much searching, we found the Loch Leven Hotel. At £100 a night, they weren't cheap, but we had nowhere else to go.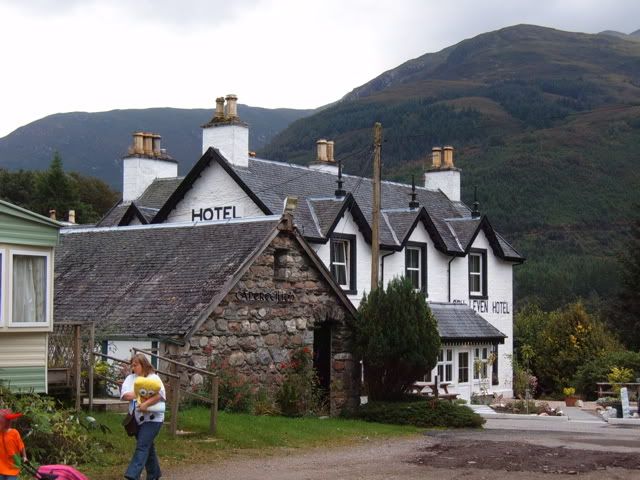 The view out the back was gorgeous and I was fascinated by the stone tiles on the roof.
Of course, the view from the front of the hotel was also beautiful.
The next day saw us driving straight to Loch Ness, home of the fabled (read: non-existent) monster. After a bit of searching, we found, if you will, a side entrance. Please ignore the locks on the gate. We did.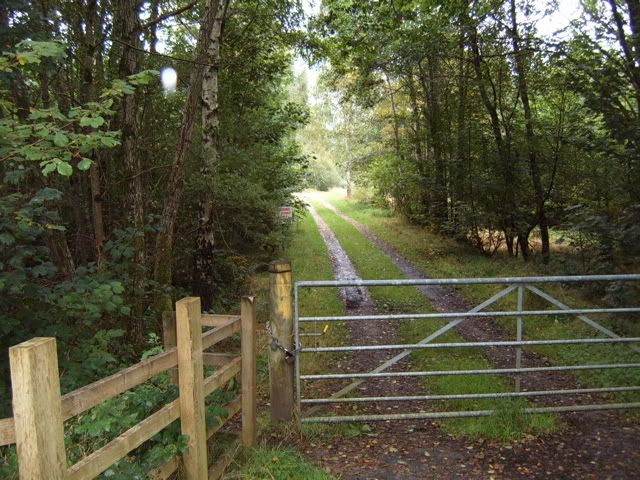 Walking to Loch Ness revealed landscape not entirely unlike Oregon.
Had I not known, I could have been back in the states. This just reminded me once again what silly little divisions we have in our world, but I soon forgot about that when we reached the Loch.
Looking south:
And across the water (that's Paul's back, if you're curious):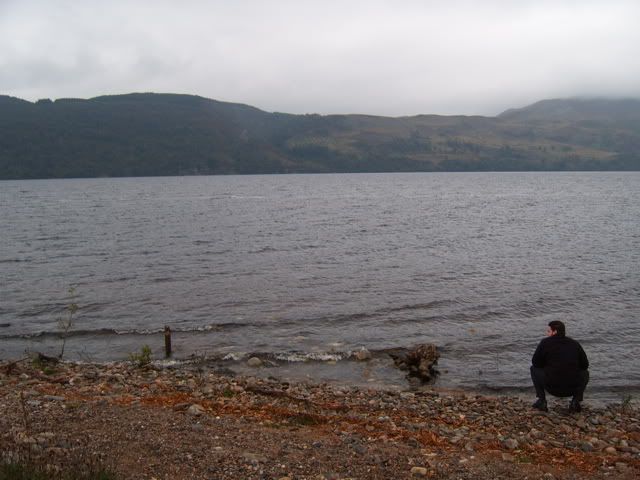 And north, a beautiful view, but the blackberries didn't have much flavor: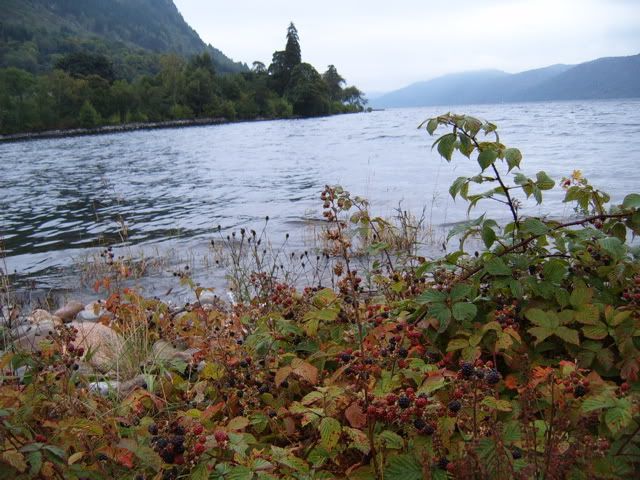 One thing which struck me, though, was the collection of boats in the inlet (outlet?):
People own those boats. For many people Loch Ness has some air of mystery about it but for those who live there, it's just home. This is something we would all do well to remember, but sometimes it's hard to think that these are actual places with actual people, going about their lives. It's no different from Rwanda, La Paz, Ulan-Ude or any of a number of places where people laugh, girlfriends cry when boyfriends leave, parents rejoice when children are born and people work, trying to pay their bills. But somehow, Loch Ness is one of the places which has captured our imaginations and the other places are merely names most dismiss -- forgotten places and forgotten people.
But hey, you didn't read this to have me make you feel guilty, so let's skip over that thought.
Driving back revealed a beautiful lake dotted with small islands. I don't know where it is or what it's called, but it's beautiful nonetheless.
However, what truly struck me was the Commando Memorial in the Scottish Highlands near Spean Bridge.
This is a memorial to brave commandos from WWII, the first "large" war after the Great War -- the War to End All Wars. During World War II, England was in serious danger of being overrun by the Germans. Churchill, in a bid to take the offensive, had British soldiers train to be elite commandos in hopes of taking the war to the Germans. They trained hard in the Scottish Highlands and they succeeded admirably. They fought the Germans hard and they had many successes and many deaths. They also did something else that few will recognize. They lived.
That might sound odd, but there was one part of the memorial I didn't take photos of. It was raining and there was a handwritten note for which the ink had not yet run or faded. It was telling a soldier he is still with his friends from WWII. There were many such notes, fresh flowers, photos, and other tributes to these brave men from WWII. Somehow, taking photos of these things seemed an invasion of privacy. For them, fighting in WWII was clearly the defining moment of their lives. But why, I wondered?
If danger was all there is to it, I'd despair for the human race. But I don't believe it was the danger. I don't even believe it was forming such close bonds with others which did it. I've many close bonds with people I care deeply about without having gone through something like this. While I could be wrong, I think what mattered was following what they believe. These brave men were willing to risk everything for what they believed. Many gave their lives for it. Following what was important to them gave meaning to many of their lives.
I don't wish to belittle the sacrifice these men made because standing up against the evil of Nazi Germany was a noble thing. However, what about the rest of us? Are we truly fulfilled by 9-to-5 jobs, going bowling on Wednesday and clubbing with friends on the weekend? If you are, that's great. It means you've found something there that is truly meaningful to you. If you are not I can only ask: what are you doing about it? The answer for most, sadly, is "nothing".
Fortunately, if you're reading this, it means you're alive and you still have a chance. What is meaningful to you? What do you wish you had done that you've never quite had the courage to do? It's not too late, but if you keep waiting, it might be. One friend told me about her dreams of a particular college degree but she lamented how old she would be when she was done. The point that she missed is that when the time came when she would have graduated, she would have been that age regardless. That's the important bit. Age isn't important. Our current circumstances merely tie many of us down, afraid to truly live life and pursue that secret little spot in our heart that we despair ever knowing.
The only chances most will truly regret are those they did not take. I've struggled for too long with this myself and now I'm finally taking them. Don't wait as long as I did. You have your whole life in front of you.