Update: I should really whip out the GIMP and make him straighten out all of these photos for me, but I'm both busy and tired and that's a lot of photos.

Update 2: This also alters social plans for a while as there's only one set of keys to the flat I'll be staying in ...

This might be my last photo entry for a while as I'm unsure of my 'net access for a while. I still haven't heard back about my flat, so tomorrow night I'll be crashing at my friend Paul's flat on a nice, comfy airbed. OK, so it won't be comfy, but it's a hell of a lot better than under a bridge.



Paul had to go to Lancaster on Sunday to pick up some stuff from his old flat, so I went along for the ride. If you've seen photos of England's countryside before, then the using stone walls in stead of fences to separate fields won't surprise you.




While I got out to take the shot, Paul was horrified to discover a spot of dust on his Celica.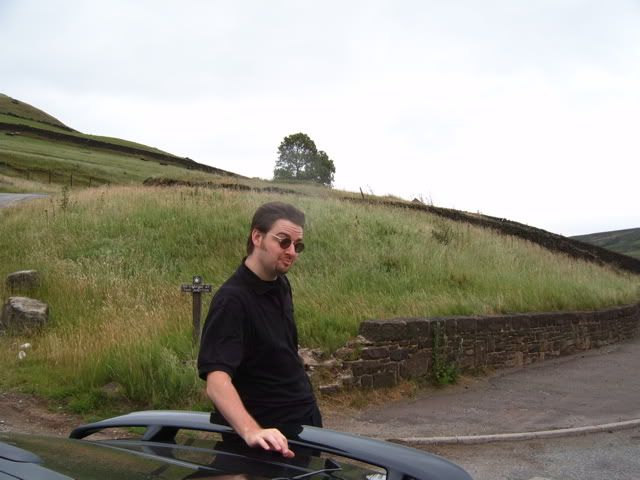 Yeah, that's what an Englishman looks like.

When we got to his flat, I couldn't help but notice the old stone house across the street. Virtually all houses are made of stone, brick, or concrete. Wood is nary to be seen. It really makes for a refreshing change from US architecture.




Along the way, I took a picture of the bay there. It looks suspiciously like an Oregon coastal town, but with older buildings.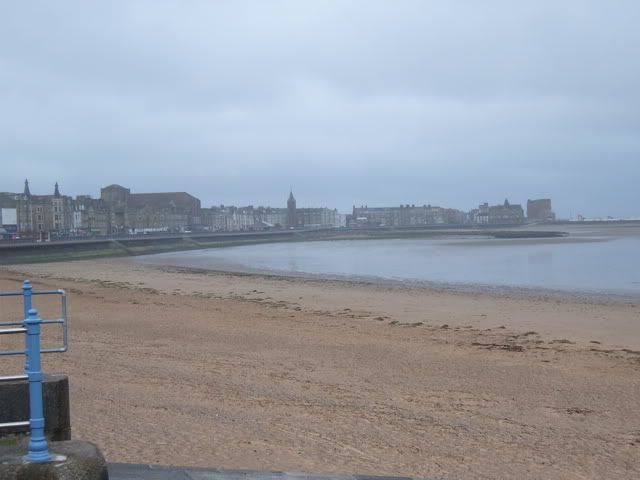 What I really enjoyed, though, was Lancaster Castle.




And yes, I was really there (I hate photos of me. They show my gut and they always look posed -- though that's because they are.)




And then walking around the castle ...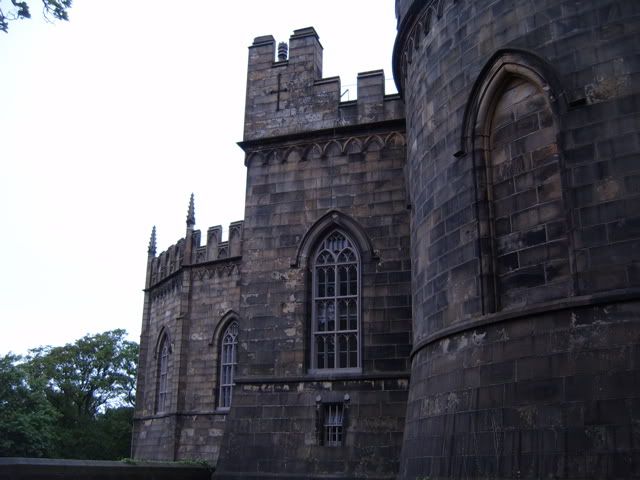 And Paul contemplating suicide.




But what's this as we walk further around?




Yup, that's barbed wire. Seems this gorgeous old castle is being used as a prison! What a damned shame.




Fortunately the rest of the view was a bit more pleasant.




And the adjacent priory was nice.




But I also appreciated the narrow, winding streets paved with brick or cobblestones. You see this all over England.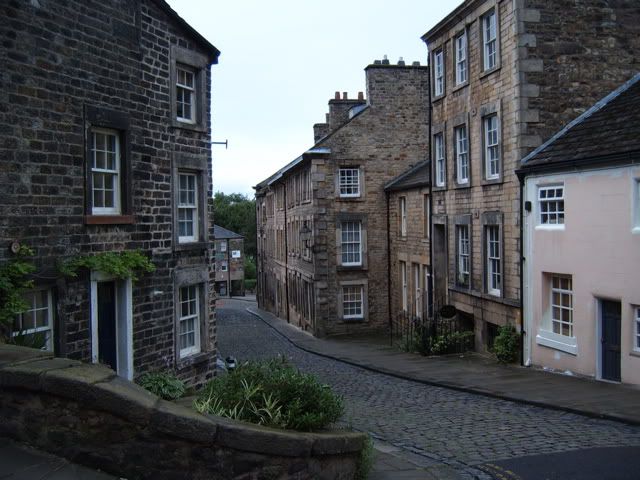 We drove home through the moors (and got lost at one point) and I caught a photo of the fog rolling in.




But you might think it a bit odd that I took a photo of a phone booth.




Or a photo of Paul in it.




If you look closely, it says "Dunsop Bridge at the centre of Great Britain". Apparently British Telecom thought that a phone booth in the exact geographic center (er, centre) of Britain was just the way to make tourists flock there. Well, they got me at least.

I might add that the photos of the castle were only of the castle's keep. The rest of the castle was apparently torn down years ago after some seiges upon it. I couldn't really tell everything which happened because damned graffiti "artists" thought that the information signs made a great canvas.

Now I think it's time for me to relax. I think I'll go hit a pub and enjoy my new book. It's got excitement, passion, and an £8.99 price tag. It's a book on chaos theory. I'm such a dork.