I've gotten a few more things worked out since my last post. Probably the best thing I've done is finally get a phone. I'll be sending my old phone back to
pdx42 once I've gotten everything off of it.

The new room my company moved me to is much nicer. Rather than being a glorified studio apartment, it's a bit of a cozy two-bedroom. The reason for the second bedroom is that in exchange for me getting a larger place to stay, I sometimes have roommates, er, flatmates, in form of out-of-town colleagues (that's what the British call "coworkers") traveling to Nottingham on business. In fact, here's a photo of a colleague and my living room rolled into one:






And my new, albeit temporary, bedroom:




Getting back to my business trip to Leeds, the train ride was quite nice. Unlike the US, travel to and from many cities is simply done by train. Train stations are large and busy, the trains are clean and they mostly run on time (American Airlines could learn a thing or two here). I was taking the train to Leeds primarily because the company wanted me to see the systems my code was going to run on and understand how their data centers were set up. Any excuse to travel in the UK is a good one for me, so I was quite happy to go and my first major site was this major pedestrian area in downtown Leeds:




Though there are a couple of vehicles in that shot, part of the downtown area is a car-free zone (except for early morning deliveries). This is the second European city I've seen like this (the other is Idstein), but I understand that this isn't terribly unusual. Walking is not discouraged.

While the above photo doesn't show it terribly well, much of the architecture is gorgeous. Unfortunately, many buildings have their ground floor basically gutted and rebuilt with "modern" façades slapped on. To truly appreciate the architecture, you have to look up. You can see a few examples in this photo of the otherwise beautiful Leeds City Market:




And another view: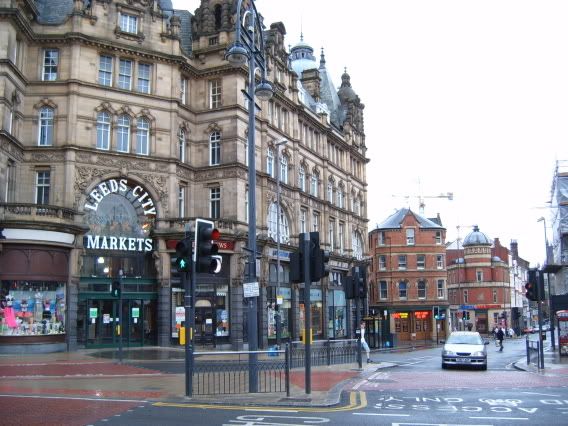 And a view from the back (you can quit looking if you're bored. I'll never know).




My favorite shot, though, is perhaps this rare photograph of the world's oldest Starbucks, built in 1873: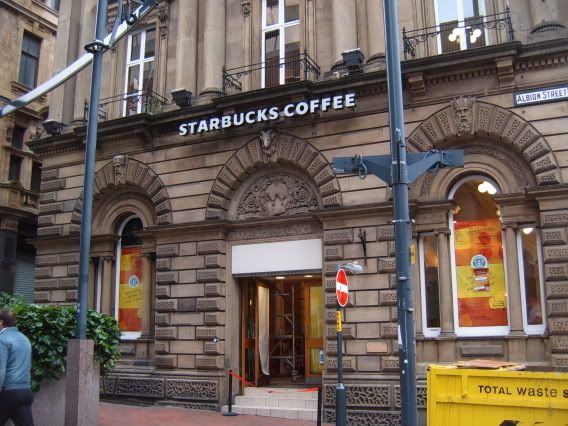 The reason that's my favorite photo is the quite accidental "caption" I included in the photo.

In other news,
birog invited me out to an art show at a local university and I was quite amazed at some of the work. Many talented artists put a lot of effort into that, though I was somewhat dubious about the artistic merit of rotting oranges in the cloth cars.


birog was quite interesting to chat with. She grew up in the Soviet Union and managed to shed some light on it. One story she told (and recounted with permission) was about a teacher who wouldn't let her turn in an essay unless it included a paragraph about how much
birog enjoyed life under communism.

Today I finally got to visit the Pitcher and Piano and had a delightful lunch with someone who shall remain anonymous because I've no idea if they'd be irritated to see themselves listed in my journal, so I'll just close by saying that we went walking around town and now I have a slew of new places to check out along with Pulp and KMFDM CDs.